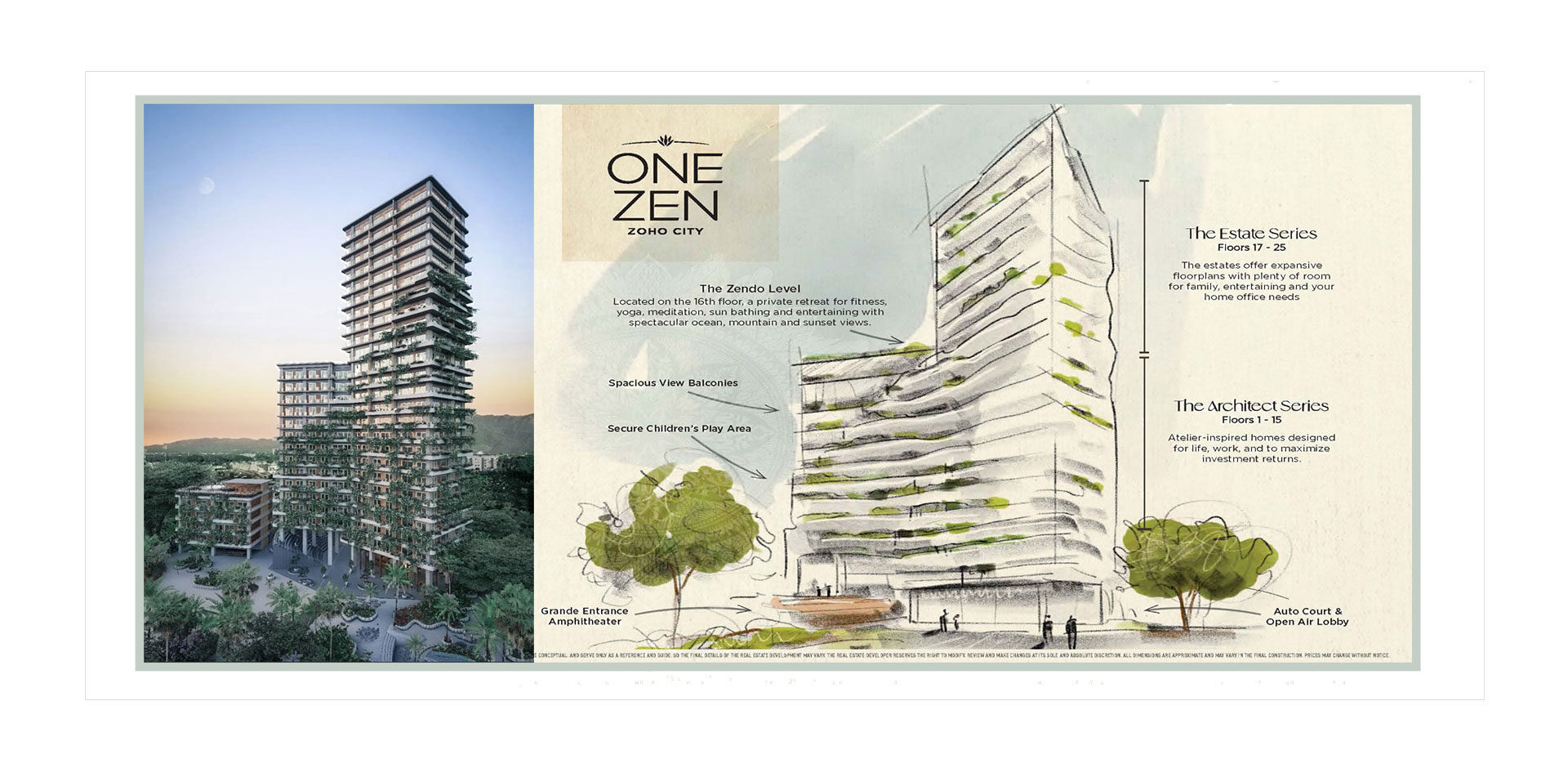 ONE ZEN - Zoho City
Zona Hotelera
ONE ZEN - Luxury Condominum
Welcome to One Zen at Zoho City.
Puerto Vallarta's Premiere Luxury Condominium Property.
L I M I T E D - O P P O R T U N I T Y

We invite you to discover a rare opportunity to own at Puerto Vallarta's newest and most iconic
private condominium residences. We are pleased to give you an insider look at One Zen, an
architectural design masterpiece that captures the tradition and beauty of Puerto Vallarta with
a sense of "zendo", a place of rejuvenation and gracious living.
One Zen has been thoughtfully placed at the center of our Zoho City Resort, where you have direct access to all the benefits of a master-planned community: a full-service hospital, our
patented mountain retreat, car and boat share, a private beach club and a community of total
care. Everything you need to live a fulfilled life, is right outside your front door.
The One Zen community has two distinct offerings for your real estate needs. The "Architect
Series" has been designed for the owner seeking an intimate space to live, work or maximize
investment revenue.
At the top of the building, we offer the "Estate Series" to provide legacy-sized condominium
living for our full-time residents looking for a room for family, friends, and large social gatherings.
Each home at One Zen has hand-selected finishings, state-of-the-art technology, and a 'green design' that ensures we leave a minimal environmental footprint.
At the center of One Zen's ethos is our "Zendo Level", a private, intimate floor dedicated to your
wellness and fitness.
The following pages outline the emerging design of One Zen, and we invite you to discover
more and get involved before this distinct property is offered to the general public.
ONE ZOHO - Zoho City